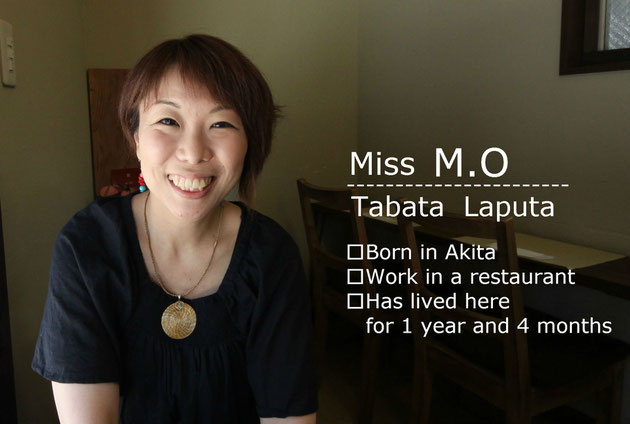 I worked as a teacher in the kindergarten in Miyagi, and at the same time I learned the "natural cuisine". To get the qulification, in the beginning of half of a year I came to Tokyo for school once two week.
After get the basical qulification , I was determined to learn more knowledge and skills about the "natural cuisine", so I decided to move to Tokyo after all. I learned harder than before during work time to reach my target whcih is to hold a kindergarten using the "natural cuisine".
I had lived outside by myself so I considered that to live alone in the first. For accepting a new challenge then coming to Tokyo, it's hard to bring all fruniture or other appilance to here. At the same time, a friend also was living in the sharehouse in Tokyo. After viewing the website, I think it looks fun and convenient, because you don't need to prepare something only your package. So nice it is!
Before the day of viewing the house, I found the website of Tabata Laputa. I was attracted to the photos of living room and the roof. And the house is only 5 minute walk from the sation, it fits my condition for near the house. This is my first time to live in Tokyo, so I was not familiar with Tabata. But it's no doubt Tabata is on the JR Yamanote line, so I sent a inquiry. I was worried about that if I could view the house after the day I sent the inquiry because I planed to come my home in Miyagi tomorrow. But I felt relieved to that the company contacted to me immediately.
When I arrived to the Tabata station, I felt it is good as if my caution to Tokyo was all disappeared. I was also nervous about who would be the guide for me, and it was a girl who is at the same age so I felt relieved again.
The roof is most wonderful for me! The daylighting and ventilation is good here, so the cloth could dry fast after washing. I go to roof after getting up every morning, and put a seat on the floor to do yoga. Usually want to take a break because the temparature is high in the summer, but here it's windy and comfortable so can insist doing it.
About the room, I like the spacious closet. I came to Tokyo with many stuffs so I didn't plan to buy others in the first. Without knowing that the things in my rooms are getting more and more. Usually I don't close the door of my closet because I put a mirrow there as a dresser. The height is also fit to me, so it let me feel the room is broader. For me, this room could let me consider how to decorate with it and feel the funny. There are other rooms like has a balcony, or near the common space etc., everyone is use the advantage of their own room and lives here.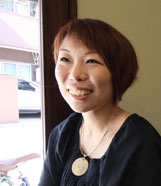 The first turning point of becoming a good relationship is that when the initial members moved in, there was a firework event of Sumidakawa. Because on the roof could see the firework, so everyone invite their own friend to here to watch the firework. From that time, we are getting along with each other, and started to plan to go out together. The opportunity of talking increased when I had live there for one month.
Now we also usually have fun together. I am the oldest between the members, the members I played with are younger than me like under 6 or 9 years old. But they are mature as that when I get confused they would help me. There are some people like me start new challenage in Tokyo, or some one who is also devoted to get a qulification. Everyday I received different incentive.
Because there would be changes of the members, so I could get many experiences from the new residents or keeping in touch with old members.
There is a group named " the travel of adult" by the members could have the same free time. As the name, we go to travel as a adult. We got up early to go to Kamakura, had a beer on the beach, somebody is good at singing sang for others, and took pictures at all. It waw really nice and happy!
Once per month on the holiday, we go out together. But not only for holiday, we also come back together after work or go to the job with each other.
Recentlly, we gathered after work and put on the Yukata to go to Tsukishima eating Monja-yaki.
We helped each other like borrowing Yukaya and doing makeup and hairstyle for others. The cooperation is only between girls.
We had a experience of gathering at the entrance in the 5am to go to Tsukiji, and ate the bowl of rice topped with sashimi then went to work.
It's great for that we can gather at the entrance and go out immediately. We also chat and talk about the private life in the daliylife, or restart a topic talked before. They are only for the sharelife!
The disadvantage is need to consider about others. Because here is gathering people from different place, so before getting used, maybe we could bother others or think too much. For living with othes, it couldn't live with one's own pace at all. Just to think it is the sharehouse lifestyle like this, everything becomes easy. The thing I hadn't cared too much when lived by myself would start to consider again because of fearing to be tought not clean. Is it OK? I started to do. Everyone has different places to care, we learn by the dailylife and consider with each other. I thinl it's good for a good experience.
Not be a disadvantage, but for me, the most nervous is taking turns with trash. What should I do if I get up late? Because this will bother others, so when it becomes the week of my turn I get nervous. But just only this.
The adavantage is that can meet many people here.
Members are from Japan even overseas, and within different ages and different life experiences, so we could learn a lot of things. Because I don't have particular interest, so I contact things that I didn't know before and my world get broader. 
The little thing such using the blue-ray in the living room to copy the drama every week, then let everyone also like this drama after all. Or see the movie which is copied by other people in the weekend and found it's so funny.
And can feel relieved.
The first image of sharehouse is only living together, so weren't impressed by the relationship. But after living here, it's really like to live in my home and feel relieved a lot. In a word, the relieving is my first adavantage now.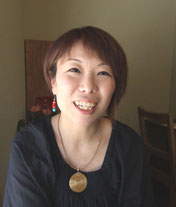 When I moved in, I consulted many things from the residents. Like when I want to buy something, they tell me where is selling or there is a short cut to there etc.. And also I asked the ward office to complete many procedures.
Also I'm appreciate the information change like where is a good bakery or where is a short cut to the shopping street. It's difficult if I live alone. I feel more relieved because I could get help immediately. So my uneasy for the sharelife in the first time disappered.
No matter what happened, I could feel relieved because there are someone could help with each other.
One time I did't feel well, the girl next to my room found I was a little strange and asked me that what I need? So I asked her to take some food from refrigerator with hesitating. The little thing really helped me a lot, so I become wanting to help others, too.
Recentlly someone went to travel and bought the famous product for everyone. So if I go to somewhere for trip I also want to bought the famous product. Can live like such a happy life, is more fun than live alone. It's really nice.
When living in the city, just go to work and back to home everyday. There is someone can hear from you and let you feel relieved, it's really fit to me. It's so grate to choose sharehouse.